@global excels at translation of instruction manuals and technical material, which typically have a high volume and periodically require updates to the material. In order to unify specialized terms, maintain overall consistency, reduce cost, and increase speed, we utilize various translation assistance tools including .
The following are the main merits of handling translation projects with SDL Trados.

1. Superior quality
---
SDL Trados makes it easy to reuse translated contents and terms in order to create a translation with unified expressions.
・・・Extremely valuable when multiple translators are used or when there is a large amount of repetition or similar expressions used in a document
It is possible to respond quickly and effectively to customers who desire to change a term or expression
・・・Unification and standardization of terms
Existing translations can be reused for manuals where future updates are expected.
・・・Consistency of translation quality for a whole series of files
Careless mistakes can be eliminated by using comprehensive check functions.
・・・By fully utilizing the checkers included with SDL Trados and checkers developed by other vendors exclusively for SDL Trados, various carless mistakes can be eliminated
* For more details, please refer to "HEED Project".
2. Faster translation
---
Improved translation efficiency
・・・It is easy to search other existing translation contents, which makes it possible to omit unnecessary repetition
It is possible to handle translation within a short time using multiple translators
・・・Work time can be reduced because the same translation memory can be shared and integrated by multiple translators
3. Lower cost
---
For material containing large amounts of repetition, a lower unit price is available for the repeated portions
・・・For updates to manual, a lower price is available for portions that match with past translations stored in the memory
4. Ability to work with various file formats
---
HTML, XML, Microsoft Word, Excel, PowerPoint, Adobe FrameMaker, InDesign, and more
We utilize SDL Trados for translation work whenever possible. In addition, we provide free consultation for document management using SDL Trados. Please ask us.

Workflow Using Trados
---
Hold a meeting, collect information, report on the current status, confirm priorities, create a contract (confirm quality, handling method, price, and due date), confirm term usage, and create document rules
* We listen to customers to understand what their priorities are related to budget and work before making a contract and starting translation. For more details, refer to "Communication with Customers".
When using SDL Trados for translation the first time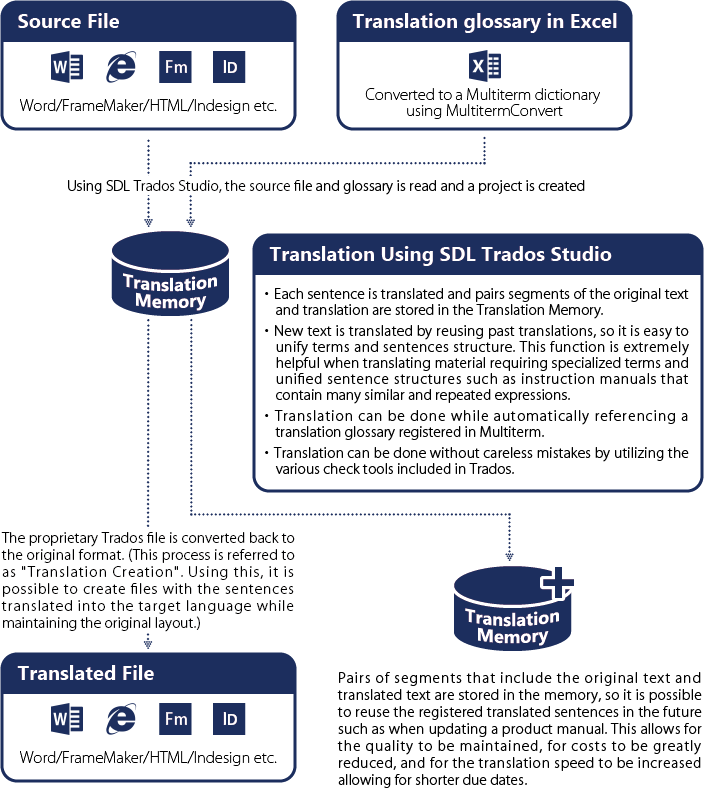 When Updating a File Translated Using SDL Trados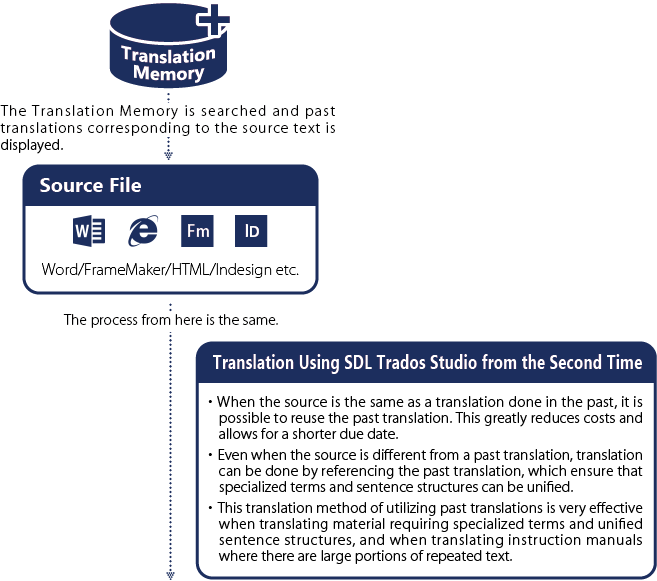 SDL

Introduction Video (English)

Introductory Booklet (Japanese)