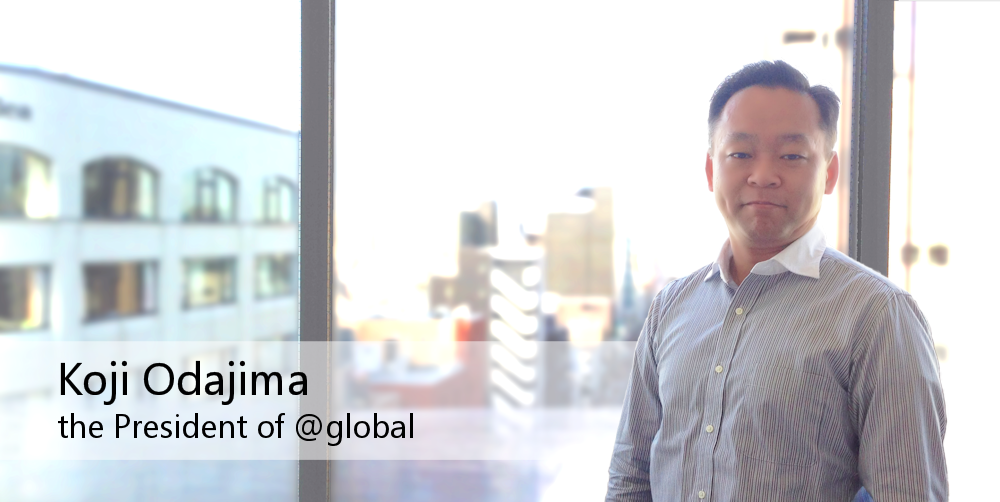 Greetings!
---
  Hello! My name is Koji Odajima, the President of @global. Since establishing this company in 1999, we have been providing various services to customers around the world, mainly related to translation in English, Chinese, Korean, and other European and Asian languages in addition to DTP, research, dictation, creation of manuals, and overseas business support. During this time, we have continued to develop with the help of our customers and dedicated staff. I am truly thankful for everyone's assistance.
  I believe that "Translation" is a kind of "Intersection". Imagine a busy intersection where many people are crisscrossing to get to the other side. Translation is like an intersection through which various languages, business fields, and cultures all need to pass in order to get to the other side of the world. Our desire is to serve as a reliable "crossing guard" to help customers cross this "Intersection" so that they can engage in their business smoothly and successfully. We understand the importance of the responsibility given us by our customers, and it is our desire to continue providing helpful services in the future as well.
@global's Code of Conduct
---
Professional
We are compensated for our work. Therefore, we must conduct ourselves as "Professionals" at all times and not as "Amateurs".
We must always have "Appreciation" and "Commitment" for the work entrusted to us, and we must carry out our assignments with "Sensitivity" and "Determination" in order to provide work of the "Highest Quality" to our customers.
We understand that "Where there is no skill, there is no work". Therefore, we must be "Professionals" by always improving our language ability, by continuing to acquire expertise in order to handle work entrusted to us, and by always demonstrating a "Spirit of giving", which means going above and beyond the expectations of our customers.
Hospitality
"Hospitality" means treating others, even strangers, like friends. We feel a sense responsibility when handling work for our customers, as though we are a part of their development or production team. We share in their desires and in the joys of their business success. Therefore, our services are an expression of our genuine feelings.
We engage in entrusted work with genuine "Joy". Although we do not go beyond our customers' request, we are not satisfied by simply finishing an assigned task. We demonstrate a "Spirit of giving" and enjoy seeing the satisfaction and surprise in our customers' faces when they see the work we have done.
Our aim is to serve as a reliable "Coach" for our customers' business. In the past, a "Coach" was a type of four-wheeled carriage pulled by a team of horses. The customer decides on the destination, but the role of the "Coach" is to get the customer to their destination as quickly, safely, and comfortably as possible. We desire to serve as a trustworthy coach or carriage to take you where you need to go.
| | |
| --- | --- |
| Staff from @global Japan | Staff from @global Shanghai |
We at @global appreciate your business, and we look forward to working together with you in the future.